Pay It Forward Initiative Amplified to Support Communities
April 6, 2020 (Minneapolis, Minnesota) – With a recent random act of kindness started last week by a nurse in Bardstown, Kentucky visiting a DQ® restaurant owned and operated by Fourteen Foods, the largest multi-unit leader of 200+ DQ Grill & Chill® restaurants and Dairy Queen Braziers in 13 states, the company is rallying to initiate a restaurant-wide sponsored Pay It Forward effort April 6th and 7th, 2020.
The previously mentioned effort in Kentucky, which resulted in upwards of 900 customers continuing the voluntary "pay it forward" chain on and off throughout the week, was one of the many acts of kindness that Fourteen Foods DQ® restaurants have experienced since recent COVID-19 related lifestyle adjustments. While pay it forward initiatives organically occur throughout any given year and are initiated by valued customers/fans, communities have increased such efforts during recent months.  
As a community-based company with deep local connections, Fourteen Foods has created a restaurant-wide awareness campaign with company-funded "kick-start" opportunities throughout the day on Monday, April 6th and Tuesday, April 7th.
"We (Fourteen Foods) are continually focused on going above and beyond, especially when it is most difficult," shares Matthew Frauenshuh, Fourteen Foods CEO. "What we've witnessed since mid-March has been truly amazing – communities have come together, without prompt, and voluntarily "paid it forward" when there's been an ability to do so. This effort is one way where we, as a company, can work to contribute to what the community has already started, and we're honored to be a part of it," notes Matthew.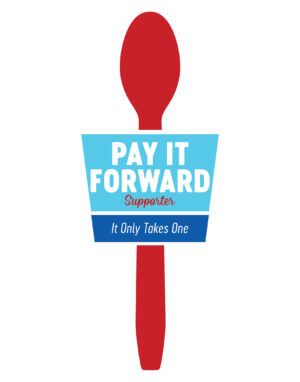 For those unfamiliar with a pay it forward challenge, the expression represents a random act of kindness that is then replicated to continue the positive momentum. In this case, periodic Fourteen Foods DQ® customers/fans have offered to put funds towards the car behind them in a drive-thru. This one act of kindness is generally continued, on and off, throughout the day, and supported at the local restaurant level.
The company-sponsored effort is not a formal daily promotion and is meant to simply amplify the efforts of selfless community members, many of whom prefer to remain anonymous. Customers/fans will not be asked to pay it forward, but rather a sense of community will be amplified throughout the coming days.
"In these trying times, many of our loyal fans/customers may not have the means to contribute, and we want to maintain their comfort and trust in Fourteen Foods. We are grateful to have the ability to provide discretionary kick-start funds across our 200+ locations throughout the new few days," notes Matthew. "By supporting our local communities in this manner, we can live up to our values of creating smiles and making memories, one red spoon at a time," shares Matthew.
Media Contact:
Christina Raymond, Fourteen Foods, Marketing Manager
952.500.0336