About Fourteen Foods
Since 2002 our recipe for success has been simple, a combination of restaurant excellent teams, raving fans, and a commitment to our communities. We believe deeply in the importance of our mission of "changing lives, one smile and a story at a time." Fourteen Foods is a multi-unit owner and operator of 240+ DQ Grill & Chill® restaurants and Dairy Queen Braziers in Alabama, Florida, Indiana, Iowa, Kentucky, Louisiana, Minnesota, Mississippi, Nebraska, North Carolina, South Dakota, Tennessee, and Wisconsin. Our passion drives us to provide an escape from the ordinary, with a place to enjoy life's every day celebrations. So come and see our soft serve artists and chicken strip basket crafters create everyday magic as the heart and soul of DQ. Whether you are next in line or the next generation, here's to you, our customers and our greatest fans.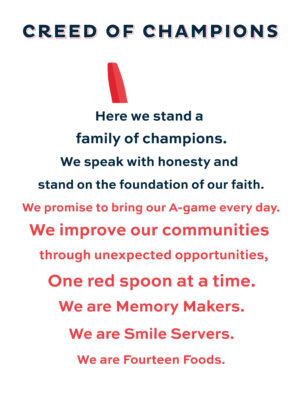 Mission & Purpose
Changing Lives, One Smile and Story at a Time
Our purpose is deeply rooted in faith; to bless our customers, communities, and teams by showing God's grace and being faithful stewards of all that is entrusted to us.
Our Values
Honesty and integrity in words and actions
Passion for our Fourteen Foods family
Foundation built on faith
Driven to exceed expectations through accountability
Play like a Champion every day